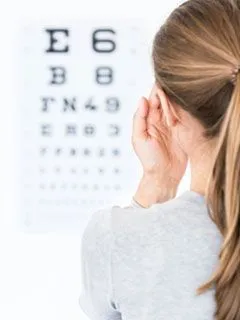 At The Ferrell Eye Clinic, Dr. Michael Adkins and our entire team are committed to providing advanced vision care in a professional and comfortable environment. As an optometrist in Lewisburg, our primary eye care service includes a complete eye exam that analyzes eye health and vision function. In addition to eye exams and vision testing, Dr. Adkins and our team of optometry professionals provide testing for glaucoma, cataracts and macular degeneration. We also offer a wide selection of glasses, contact lenses, and sunglasses. We are the only provider in the area to offer Costa Del Mar prescription sunglasses- the best polarized lenses on the planet!
Eye Exams
Dr. Adkins and the The Ferrell Eye Clinic team take even routine eye exams very seriously. During a yearly examination, our patients will receive a series of vision and eye tests utilizing the very latest in technology. Specialized testing such as digital fundus photography, corneal topography, and computerized visual field testing are usually reserved for special cases in most offices. At the Ferrell Eye Clinic we include these extra test with every routine exam at no extra charge- that's the Ferrell Eye Clinic difference! We strive to treat every patient the way we would like to be treated if we were the patient. Call us a today at 304-645-2774 to schedule an appointment and see for yourself why we are the best place for eyecare in the Greenbrier Valley.
Contact Lenses
Not sure that glasses are for you? Ask our Lewisburg staff about contact Lenses. Advances in the field of optometry have produced a variety of different types of contact lenses with a range of benefits. Rigid gas-permeable (RGP), daily-wear soft, extended-wear, daily disposable, and planned replacement are some of the various types of contact lens options available today. At the Ferrell Eye Clinic we specialize in hard to fit customized contact lens options for corneal deformities like Keratoconus and irregular corneal astigmatism. Dr. Adkins will discuss the various options with you to determine which type will best fit your needs and lifestyle. Schedule your examination today by calling 304-645-2774. They are many advantages to consider when determining if contact lenses are right for you and our knowledgeable staff is here to answer any questions.
Lasik
Laser assisted in situ keratomileusis, commonly referred to as LASIK, is a corrective alternative to glasses or contact lenses. Like glasses or contact lenses, LASIK is a method for treating refractive conditions including nearsightedness (myopia), farsightedness (hyperopia), and astigmatism. At The Ferrell Eye Clinic, Dr. Adkins provides pre- and post-operative exams for LASIK and other eye procedures. Call 304-645-2774 today to schedule an examination to see whether you are a candidate for LASIK.